Digital Training & Consultancy
Been there, digitally done that.
I've been working in digital for over 15 years, it's a career that I love and I enjoy sharing my passion, knowledge and ideas with people to help them boost their digital presence and confidence.
All inclusive training
I like to consider this style of training different, different because we cut out all the unnecessary jargon and buzzwords, and focus on delivering information in a clear, concise, and approachable way so that it is fully inclusive to all, regardless of the topic or your level of digital understanding.
The training programmes are delivered in a workshop style, activities include presentations, a series of practical tasks, insights and with every opportunity for you to take part. Although the topics covered are in depth, they are delivered in a creative, hands-on and engaging way. The aim of the training is to leave you feeling fully in control, aware of all your options and empowered to move forward with your digital knowledge.
LeedsBoost
[Masterclasses]
If you are a business in Leeds we have a number of masterclasses running
View the Leeds Boost website for more information and an up to date schedule.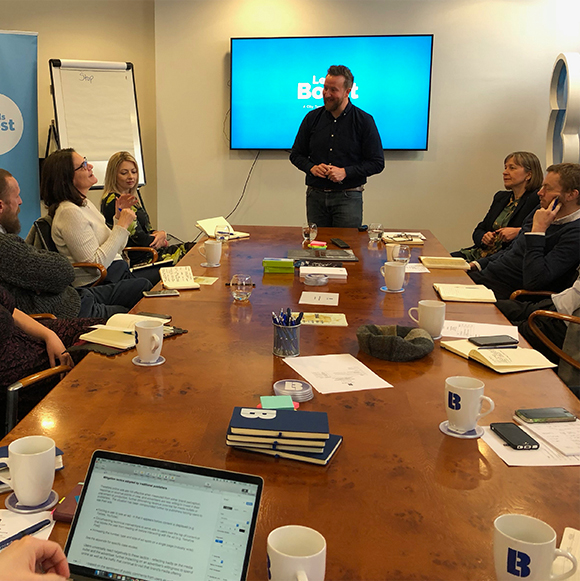 Exclusive Masterclasses & Consultancy
Training currently available in masterclass format is:
Experience Land [Retail]
How retailers on the high street must focus on experience and utilise digital in order to survive.
Get Maximum Exposure [Hospitaility]
How bars and restaurants can leverage their existing customers to get more people through the door.
Become an opportunity Magnet [Professionals]
How professionals can raise their online profile and strategically use social media to attract new opportunities.
Hack your 9-5 [Digital productivity]
How you can use digital tools and techniques to save you 2 hours a day, get more done and go home happy.
Passion to profit [Entrepreneur]
A unique approach to tap into the online world and create a passive salary doing what you love.
Purposeful Pay-Per-Click [Digital Marketing]
It's time to take back control of your paid advertising and start seeing results.
Alternatively, if you would like a bespoke or exclusive masterclass or training programme please contact me via contact page or direct at simon@simonmccaskill.com.